Blåbärssoppa or blueberry soup is a Scandinavian soup made from bilberries, which can be served cold or hot. It is sweet and contains starch, which gives it a fairly thick consistency.
Quick Chilled Blueberry Soup
source: https://www.tasteofhome.com
Ingredients
4 cups fresh or frozen blueberries
3 cups water
2/3 cup sugar
1/4 teaspoon ground allspice
2 cups plain yogurt
Sour cream or additional yogurt, optional
Directions
In a large saucepan, combine the blueberries, water, sugar and allspice. Bring to a boil, stirring occasionally.
Remove from the heat. In batches, process blueberry mixture and yogurt until smooth.
Cover and refrigerate until chilled.
Serve with sour cream or yogurt if desired.
Nutrition Facts
1 cup: 188 calories, 3g fat (2g saturated fat), 10mg cholesterol, 36mg sodium, 40g carbohydrate (35g sugars, 2g fiber), 3g protein.
Swedish Blueberry Soup
A delicious and healthy breakfast idea and that can be served warm on chilly mornings or also enjoyed cold.
Author: Brynn at The Domestic Dietitian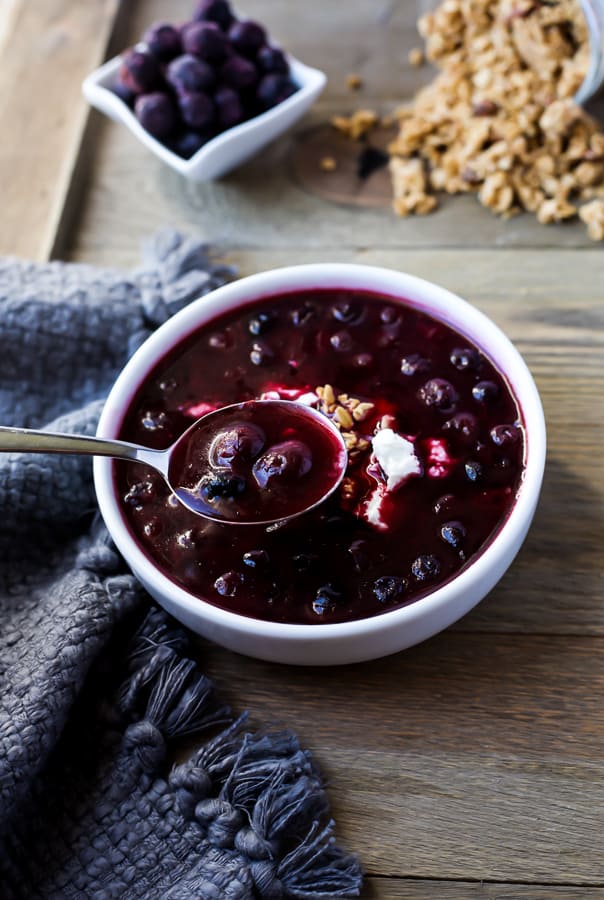 Ingredients
3 cups frozen wild blueberries
Juice of 1/2 lemon about 2 tbsp
2 cups water
1 tsp cinnamon
1/2 tsp ground nutmeg
1 tbsp sugar
1 tbsp maple syrup
1 tbsp corn starch mixed into 2 tbsp cold water for thickening
Garnish optional: Greek Yogurt

, Granola or Toasted Almonds
Instructions
Place blueberries, lemon juice, and water in a small sauce pot and bring to a boil over medium heat Once boiling, add cinnamon, nutmeg, sugar and maple syrup and allow to boil an additional 5 minutes
Remove from heat and stir in corn starch mixture. Stir to combine and return back to heat Bring to a boil again and then immediately remove from heat and allow to cool Garnish with dollop of greek yogurt and toasted almonds or granola (optional)
Note – if you want the soup a bit sweeter
, add additional tbsp of maple syrup
source: https://thedomesticdietitian.com
Sweet Blueberry Soup with Yogurt
Mark Bittman
Ingredients
1 pint blueberries, picked over and washed
2 cups water
½ cup sugar, plus more if needed
1 teaspoon ground cinnamon, plus more if needed
1 cup plain yogurt or sour cream, plus more for garnish
Instructions
Combine the blueberries, water, sugar, and cinnamon in a medium saucepan and turn the heat to medium. Cook, stirring occasionally, until the blueberries fall apart, 10 to 15 minutes.
Cool the mixture a little, then puree in a blender, taking care not to burn yourself (or tarnish things with the blueberry juice, which will stain). Taste and add more sugar or cinnamon if necessary. Chill, then stir in yogurt or sour cream. Serve cold, garnished with more yogurt or sour cream.
source: https://cooking.nytimes.com