Wraps are just as easy to eat on the run, if not more so, and still offer the same health benefits that a traditional sandwich does. Plus, wraps can hold many ingredients and are also versatile, allowing for myriad flavor combinations.
We have for you 3 Blueberry Wrap Recipes
Blueberry Basil Chicken Salad Lettuce Wraps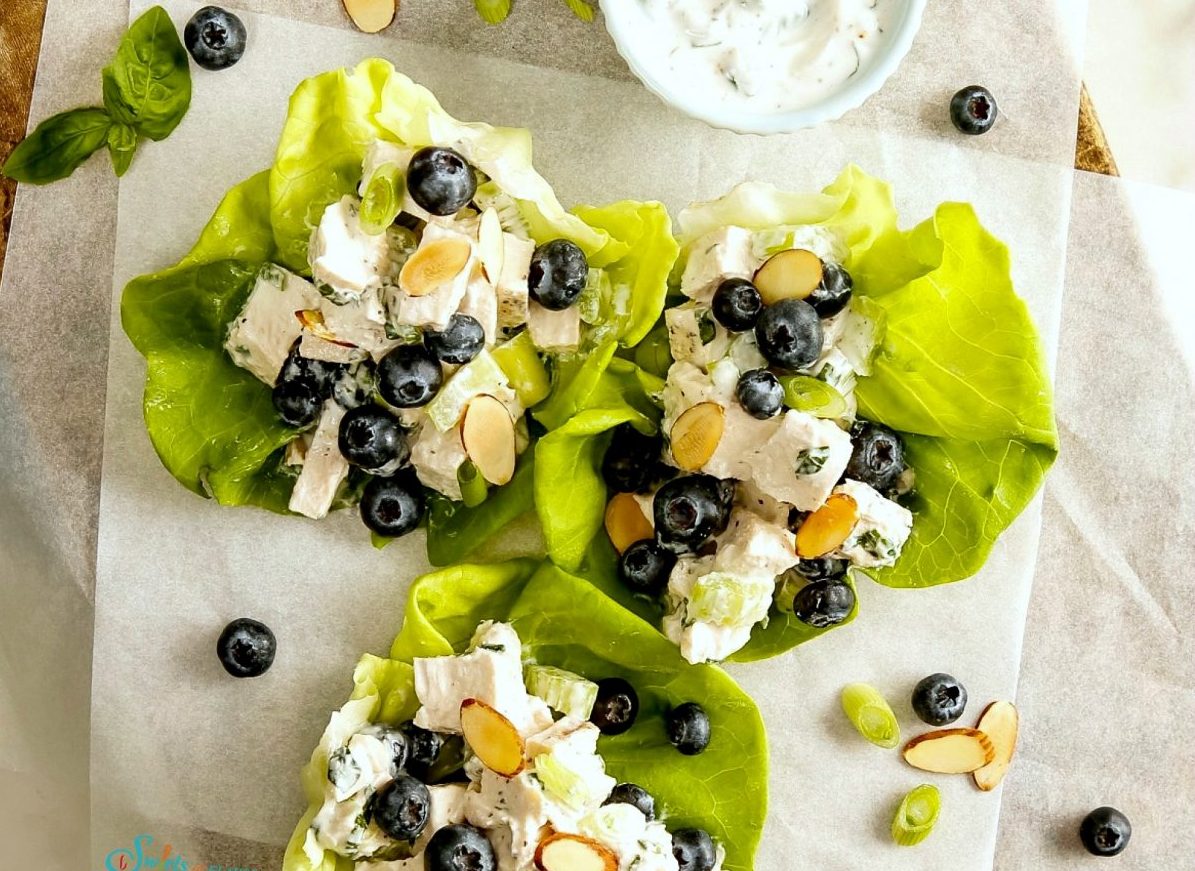 Prep Time: 10 mins
Total Time: 10 mins
Servings: 4
Ingredients:
½ cup plain Greek yogurt
¼ cup chopped fresh basil
1/2 tsp. kosher salt
¼ tsp. pepper
3 cups chopped cooked chicken
1 cup blueberries
½ cup chopped celery
¼ cup chopped scallions
8 lettuce leaves
2 Tbs. toasted sliced almonds
Instructions:
Combine yogurt, basil, salt and pepper in bowl until blended.
Add chicken, blueberries, celery and scallions and toss until evenly coated.
Arrange lettuce leaves on serving platter and top with chicken mixture, dividing evenly between lettuce leaves.
Sprinkle with almonds.
Makes 4 servings.
Yield: 4 cups chicken mixture; ½ cup chicken per lettuce leaf; 2 lettuce leaves per serving
Nutrition Facts
Amount Per Serving
Calories 271
Fat 8g
Saturated Fat 2g
Cholesterol 91mg
Sodium 353mg
Potassium 493mg
Carbohydrates 11g
Fiber 3g
Sugar 6g
Protein 38g
Vitamin C 14mg
Calcium 98mg
Iron 2mg
source: https://farmflavor.com/recipes/blueberry-chicken-salad-wraps/
Lemon-Blueberry Wraps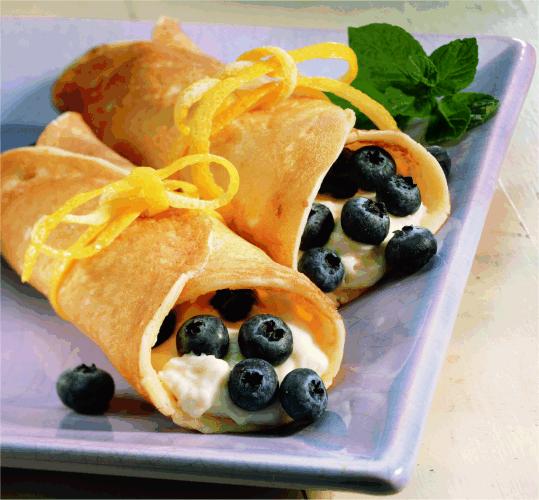 Serves: 6
Ingredients
1 cup Original Bisquick®
1/2 cup milk
1 tablespoon sugar
1 teaspoon grated lemon peel
2 tablespoons lemon juice
1 egg
lemon cream Filling (below)
3/4 cup fresh blueberries (approximately)
Lemon-Blueberry Wraps
1 (3-ounce) package cream cheese
, softened
1/4 cup sugar
2 teaspoons grated lemon peels
1/3 cup whipping (heavy) cream
Directions:
1. Heat griddle or skillet grease if necessary.
2. Stir all ingredients except Lemon Cream Filling and blueberries until blended. For each wrap, pour 2 tablespoons batter onto hot griddle, spreading each to make about 6-inch circle. Cook until tops are slightly dry. Turn and cook until bottoms are golden brown cool.
3. Make Lemon Cream Filling. Spread about 2 tablespoons filling onto center of each wrap. Sprinkle with about 1 tablespoon blueberries roll up.
Lemon Cream Filling
1 package (3 ounces) cream cheese, softened
1/4 cup sugar
2 teaspoons grated lemon peel
1/3 cup whipping (heavy) cream
Beat cream cheese in large bowl with electric mixer on high speed until fluffy. Stir in sugar and lemon peel set aside. Beat whipping cream in chilled small bowl with electric mixer on high speed until stiff. Fold whipped cream into cream cheese mixture.
High Altitude (3500 to 6500 feet): Use 3/4 cup milk.
Nutrition Facts: 1 Serving: Calories 240 (Calories from Fat 115) Fat 13g (Saturated 7g) Cholesterol 65mg Sodium 350mg Carbohydrate 27g (Dietary Fiber 1g) Protein 5g % DAILY VALUE: Vitamin A 10% Vitamin C 4% Calcium 8% Iron 4%
source: http://www.dvo.com/recipe_pages/bisquick/Lemon-Blueberry_Wraps.php
Blueberry Dessert Wraps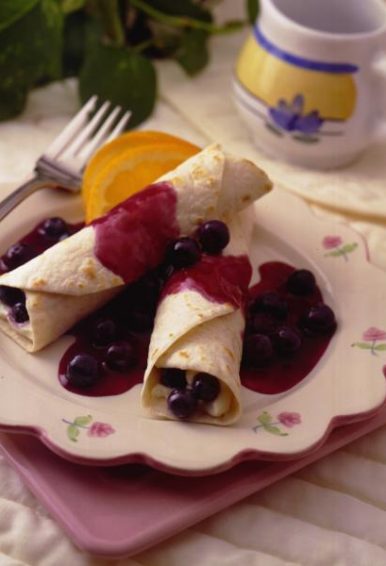 Ingredients
3 tablespoons sugar
1-1⁄2 teaspoons cornstarch
1⁄2 cup orange juice
1-1⁄2 cups frozen or fresh blueberries, divided
1 package (8 ounces) light or lowfat cream cheese, softened
1⁄4 cup confectioners sugar
1 teaspoon vanilla extract
8 (7-inch) flour tortillas
2 tablespoons butter
Instructions
Prepare sauce in a small saucepan combine sugar and cornstarch
Stir in orange juice
Cook and stir over medium heat until sauce is clear and thickened, about 5 minutes
Stir in 1 cup blueberries
Return to a boil
Boil and stir for 1 minute
In a mixing bowl beat cream cheese until light
Add confectioners sugar and vanilla
Beat until smooth and creamy
Spread each tortilla with about 2 tablespoons of the cheese mixture
Place about 6 frozen blueberries across the center of each tortilla
Roll jelly-roll style
In a medium skillet

, melt 1 tablespoon butter over medium heat

Place half of the wraps seam side down in skillet and cook turning occasionally until evenly browned, about 3 minutes
Repeat with remaining butter and wraps
Serve topped with hot blueberry sauce
source: https://blueberry.org/recipes/blueberry-dessert-wraps/