This salad combines the goodness of quinoa, fresh berries, and a tangy dressing to create a perfect mid-day meal. Let's dive into the recipe!
Berry Quinoa Salad
Chef Jarvis Rippin from Cooker Query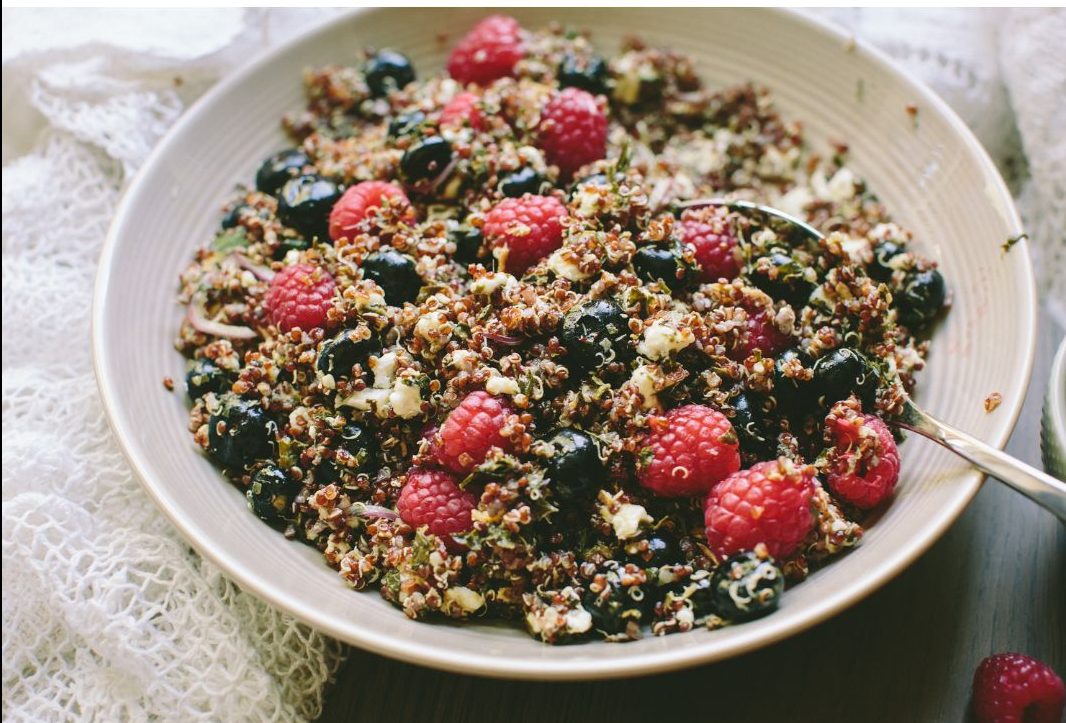 Ingredients:
For the salad:
1 cup cooked quinoa
One cup of various berries, including strawberries, blueberries, and raspberries.
1/2 cup diced cucumber
1/4 cup diced red onion
1/4 cup chopped fresh mint leaves
1/4 cup crumbled feta cheese (optional)
2 tablespoons chopped almonds or walnuts (optional)
For the dressing:
2 tablespoons extra-virgin olive oil
1 tablespoon freshly squeezed lemon juice
1 tablespoon honey or maple syrup
1/2 teaspoon Dijon mustard
Salt and pepper to taste
Instructions:
Combine the cooked quinoa, mixed berries, diced cucumber, red onion, and chopped fresh mint leaves in a large mixing bowl. Toss gently to mix well.
If you're using feta cheese and nuts, add them to the bowl and gently toss again to distribute them evenly.
Place the contents into a separate, smaller bowl, whisk together the extra-virgin olive oil, lemon juice, honey or maple syrup, Dijon mustard, salt, and pepper until well combined. This will be the dressing for your salad.
Pour the dressing over the quinoa and berry mixture. Use a spatula or large spoon to gently toss everything together, ensuring the dressing is evenly coated.
Allow the salad to sit for about 10 minutes, allowing the flavors to meld together. This will also allow the quinoa to absorb some of the dressing.
Once the salad has rested, give it another gentle toss to mix everything together.
Serve the Berry Quinoa Salad chilled or at room temperature as a refreshing mid-day meal or a side dish for a larger meal.
Nutritional Benefits:
Quinoa is a nutrient-dense grain that provides high-quality protein, fiber, and essential minerals like magnesium and phosphorus.
Berries are rich in antioxidants, vitamins, and fiber. They promote heart health, boost immunity, and support brain function.
Mint leaves add a refreshing flavor and can aid in digestion.
Feta cheese offers a good source of calcium and protein.
Almonds provide healthy fats, vitamin E, and magnesium, which benefit heart health.
Enjoy the delightful combination of flavors and textures in this Berry Quinoa Salad. The quinoa provides a protein-packed base, while the mixed berries offer a burst of sweetness and antioxidants. Adding fresh mint leaves provides a refreshing flavor, and the dressing ties everything together with its tangy and slightly sweet flavor.
Feel free to customize the salad by adding your favorite herbs, vegetables, or nuts to suit your taste. Bon appétit!