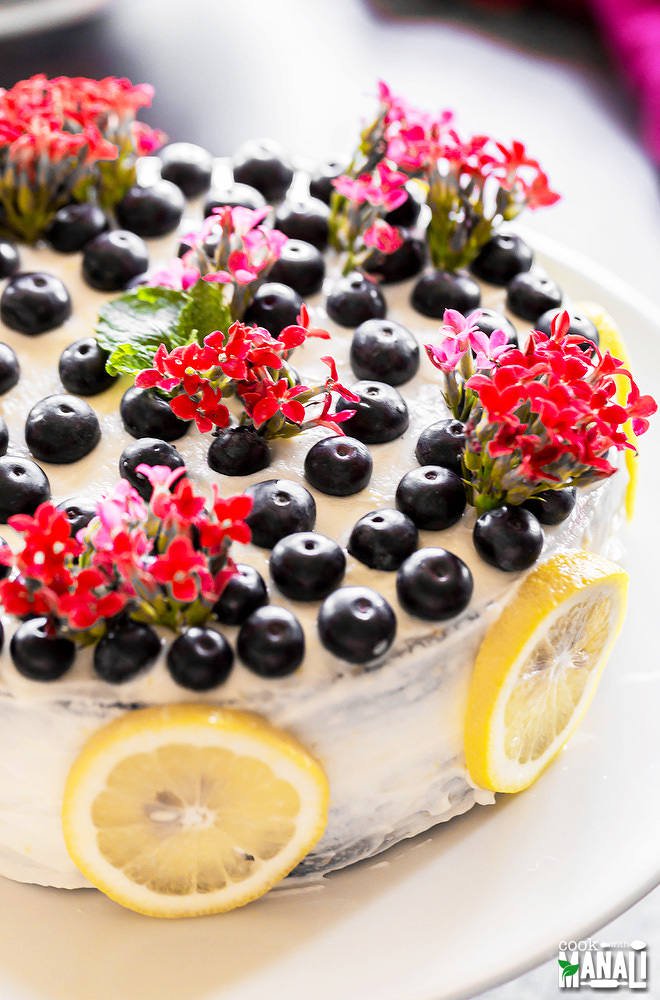 This Cake is topped with Lemon Cream Cheese frosting is a super cake to celebrate Mother's Day!
Prep Time: 20 minutes
Cook Time: 30 minutes
Total Time: 50 minutes
Servings: 8-inch layer cake
Calories: 674 kcal
Ingredients
2 cups all-purpose flour
1/2 teaspoon salt
1 tablespoon baking powder
3/4 cup canola oil, or use vegetable oil
1.25 cups granulated white sugar
2 teaspoons vanilla extract
6 tablespoons milk, I used 2% fat milk
1 cup fresh blueberries, tossed in 1/2 tablespoon flour
blueberry yogurt
1 cup whisked plain yogurt
3/4 cup fresh blueberries
1 tablespoon granulated white sugar
Lemon Cream Cheese frosting
1/2 cup unsalted butter, at room temperature
8 oz cream cheese, softened
3 – 3.5 cups powdered sugar
1/2 teaspoon vanilla extract
1 teaspoon lemon extract
2 teaspoons lemon zest
2 tablespoons lemon juice, use fresh
Instructions
In a bowl whisk together flour, salt and baking powder. Set aside.
Make blueberry yogurt – to a food processor add whisked plain yogurt, 1 tablespoon sugar and blueberries. Pulse till everything is well combined. Set aside.
Using your stand or hand mixer, beat oil and sugar till combined. Then add vanilla extract and mix.
Add in the prepared blueberry yogurt and mix to combine.
Add the flour mix in 3 parts, alternating with milk and starting and ending with flour. Do not over-mix.
Toss fresh blueberries in 1/2 tablespoon flour and then fold them into the batter.
Pour batter into the 2 prepared pans. I added some extra blueberries on top, this is optional.
Bake at 350 F degrees for around 30 minutes or until a toothpick inserted in the center comes out clean.
Once the cake is done, remove from oven and transfer onto a wire rack to cool completely.
Lemon Cream Cheese Frosting
While the cake is in the oven, make the frosting. Beat together butter and cream cheese till smooth and creamy.
Add powdered sugar, 1/2 cup at a time and mixing well after each addition.
Add lemon juice, lemon zest and lemon extract and mix well till everything is well combined and frosting is smooth.
You may add 1-2 teaspoons of heavy cream or milk if you think the frosting isn't too spreadable.
Assemble the cake
Once the cake layers have completely cooled down, place one of the layers on your serving plate or turntable and apply a generous amount of frosting on top.
Place the other cake layer on top and some frosting on top.
Cover the cake with frosting on all sides, or you can do it like I did – just covered it with little frosting.
Decorate with fresh blueberries, lemon slices and serve!
2. Eggless Whole Wheat Blueberry Cake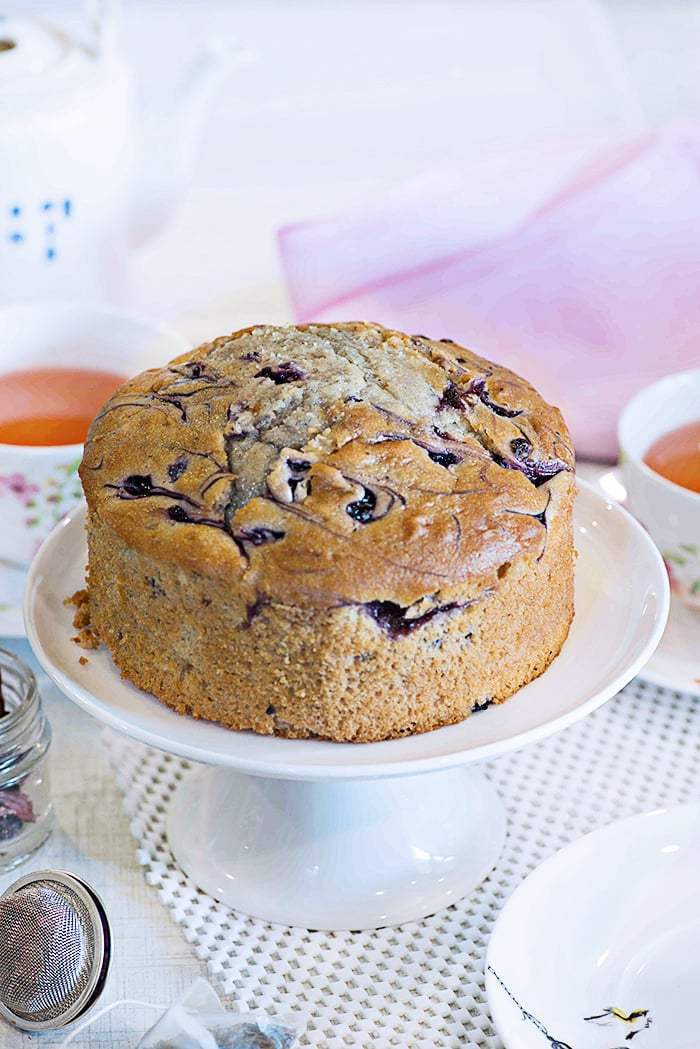 Eggless Whole Wheat Blueberry Cake is a scrumptious tea-time cake recipe that you can prepare for your loved ones on any occasion. 
Ingredients 
2 cup blueberry
1 teaspoon vanilla extract
1/2 teaspoon baking soda
120 ml canola oil/ rapeseed oil
50 gm corn starch
1/2 teaspoon salt
For the Main Dish
150 gm wheat flour
200 gm almond flour
480 ml milk
200 gm brown sugar
Instructions 
Pre-heat the oven at 180 degree Celsius. Next, take a round cake pan and put parchment paper in it carefully.
Now, take a large bowl and sift together almond flour, wheat flour, corn starch, baking soda, and salt. Mix all the ingredients well.
Next, take another bowl and add milk in it, canola oil and vanilla essence in it. Mix all these ingredients well. Now, combine the flour mixture with the milk, and mix together to prepare the cake batter. Now, carefully add in the blueberries to the mixture.
Then, pour this prepared mixture in the baking dish and bake it in the pre-heated oven for 50 minutes. Once done, allow the cake to cool at wire rack. Serve warm!
Calories: 200
3. Rooibos-Blueberry-Glazed Donut Holes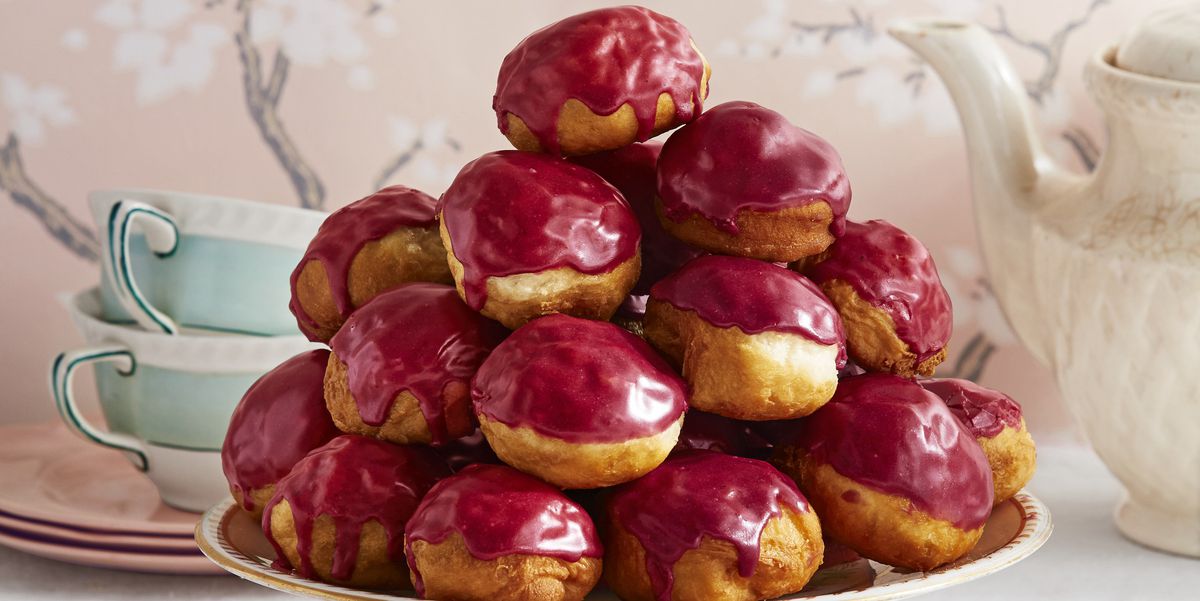 Fresh blueberries, rooibos tea, and hint of lemon make these donut holes a refreshing treat.
Serves:
18 servings
Ingredients:
1/3 c. plus 1 tablespoon whole milk
1 1/8 tsp. active, dry yeast
2 tbsp. granulated sugar
1 large egg, at room temperature
1 tbsp. unsalted butter, at room temperature, cut into pieces
1/2 tsp. kosher salt
1 1/2 c. all-purpose flour, spooned and levelled, plus more for work surface
1/2 tsp. lemon zest
2 qt. canola oil, plus more for bowl and baking sheet
8 oz. blueberries (2 cups)

 

6 tbsp. loose rooibos tea

 

2 c. confectioners' sugar
Directions
Heat milk in a small glass measuring cup in microwave on high for 30 seconds or until just warm to the touch (between 100°F and 110°F). Stir in yeast and granulated sugar. Set aside until frothy, 4 to 6 minutes (if mixture does not froth, discard and start again). Transfer to a bowl; add egg and whisk to combine. Whisk in butter and salt (don't worry if some lumps of butter remain).
Stir in flour and lemon zest until a dough form. Beat dough with an electric mixer fitted with dough hook on low speed, 5 minutes (dough will be sticky). Lightly oil a bowl. Transfer dough to prepared bowl and cover with a towel. Let rise, at room temperature, until doubled in size, 1 to 1 1/2 hours.

 

Lightly oil a large baking sheet. Turn dough out onto a lightly floured work surface; lightly dust dough. Roll into an 18-by-1 1/4-inch rope. Cut into 1-inch pieces and roll into balls. Transfer to prepared baking sheet and cover with a towel. Let rise, at room temperature, until puffed, 25 to 30 minutes.
Place a wire rack on a baking sheet. Heat oil in a large saucepan to 350°F to 360°F. Cook donuts, 3 or 4 at a time, until golden brown, 1 to 2 minutes per side. Transfer to wire rack using a slotted spoon; let cool.
Cook blueberries, rooibos, and 1/2 cup water in a small saucepan, pressing berries with a potato masher to mash, until syrupy, 8 to 10 minutes. Strain through a wire-mesh strainer lined with cheesecloth; discard tea. Add confectioner's sugar and whisk until smooth. Dip tops of donut holes in glaze.
Source: https://www.countryliving.com
4. Blueberry Ice cream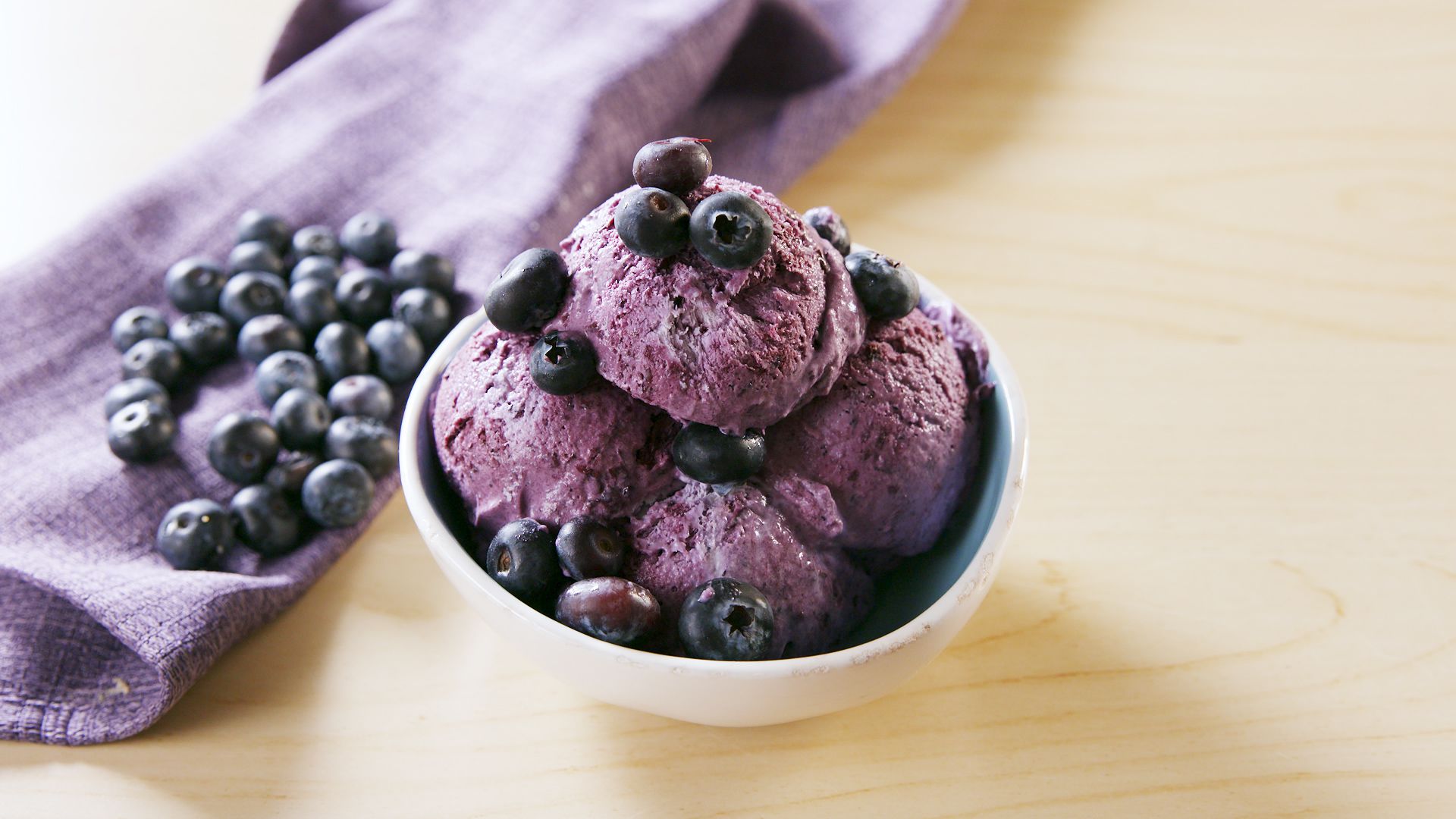 Ingredients
Blueberries – 1.5 – 2 cups
Sugar – 1 tbsp or to taste
Lemon juice – 1.5 tsp
Heavy whipping cream – 2 cups
Sweetened condensed milk – 1 tin or 3/4th of a tin if the blueberries are very sweet
Vanilla extract – 1 tsp
Method
Grind blueberries in the large jar of a mixie / food processor to a fine mixture.
Transfer it to a saucepan along with 1 tbsp sugar and 1.5 tsp lemon juice. Mix well and bring to a boil. Bring down the heat to low and cook for 6 – 8 minutes until excess moisture evaporates and it is slightly thickened. Switch off.

 

Set aside to cool completely.
Place the heavy whipping cream, condensed milk and vanilla extract in a large bowl and using a hand mixer, whip until medium peaks form. Add cooled blueberry mixture and mix gently using the hand mixer for 10 – 15 seconds. Transfer to a freezer safe bowl and freeze for at least 8 hours or until set.

 

Enjoy & celebrate!
5. Quick Blueberry Bread Pudding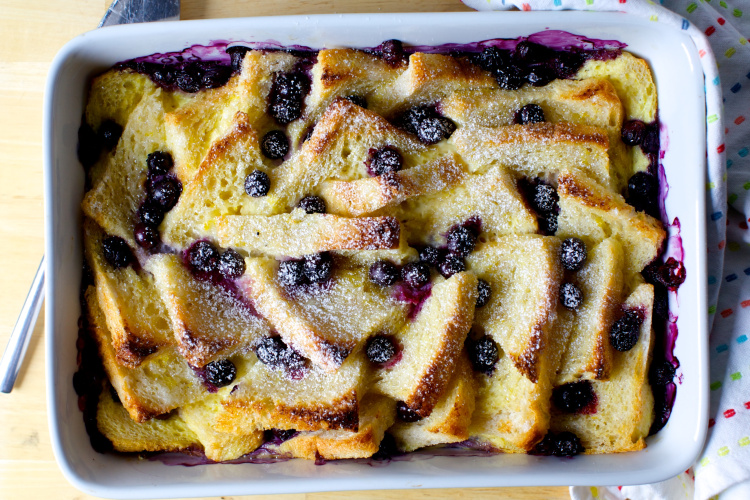 Yield:12 servings
Ingredients
4 cups bread cubes
1/4 cup butter (or margarine, cut in pieces)
2/3 cup sugar
1/4 teaspoon salt
2 cups blueberries (fresh or frozen, rinsed well and drained)
1/4 cup water
2 tablespoons lemon juice (fresh)
Direction
In a mixing bowl, combine bread, butter, sugar, salt, blueberries, water, and lemon juice.
Pack mixture into a generously buttered 1 1/2-quart baking dish.
Cook blueberry bread pudding at 350 F for 40 minutes, until set.
Serve this blueberry bread pudding hot or cold with cream or a bourbon sauce.
Nutritional Guidelines (per serving)
Calories: 89
Fat: 8g
Carbs: 17g
Protein: 1g
Happy Mother's Day to all Moms out there!