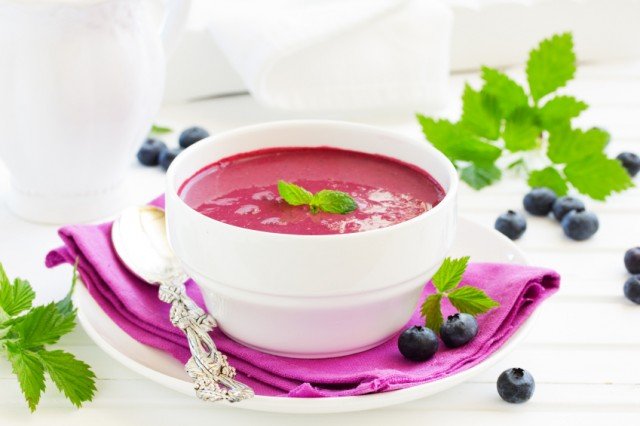 Gazpacho and blueberries are a brilliant summer pairing. Gazpacho, a cold raw vegetable soup that originates from Spain, is often made from tomatoes and cucumbers.  The soup is light and refreshing, providing the perfect end to a hot summer day. Blueberries transform the traditional soup into a beautiful display of summer's harvest.  The rich color of the blueberries meld with the bright red of color of the tomatoes and the freshness of the cucumbers to create vibrant vitamin-packed bowls that beat the heat.
The flavors of Gazpacho pair exceptionally well with fruit, and although watermelon and cantaloupe have been the most popularized fruits for Gazpacho, blueberries offer a healthy alternative to this "liquid salad" that will delightfully satisfy your hunger.  The addition of fresh blueberries provides an unusual twist, taking advantage of seasonal fruit and compounding the soup's nutritional value.  Blueberries boost the vitamin C, fiber, and manganese content of the soup, and using raw ingredients maximizes nutrients.  The blueberries add a welcome sweetness to the dish, which is balanced by subtle herbs and a hint of acid.
The following Simple Summer Blueberry Gazpacho recipe is as effortless as making a smoothie, and does not require a stovetop or any pots and pans. Gather your ingredients, measure, and let the blender do the work.  Blueberry Gazpacho is an easy, no-cook lunch or dinner option that's perfect for the weekday and yet is beautiful enough for entertaining friends.
Simple Summer Blueberry Gazpacho
Serves 4.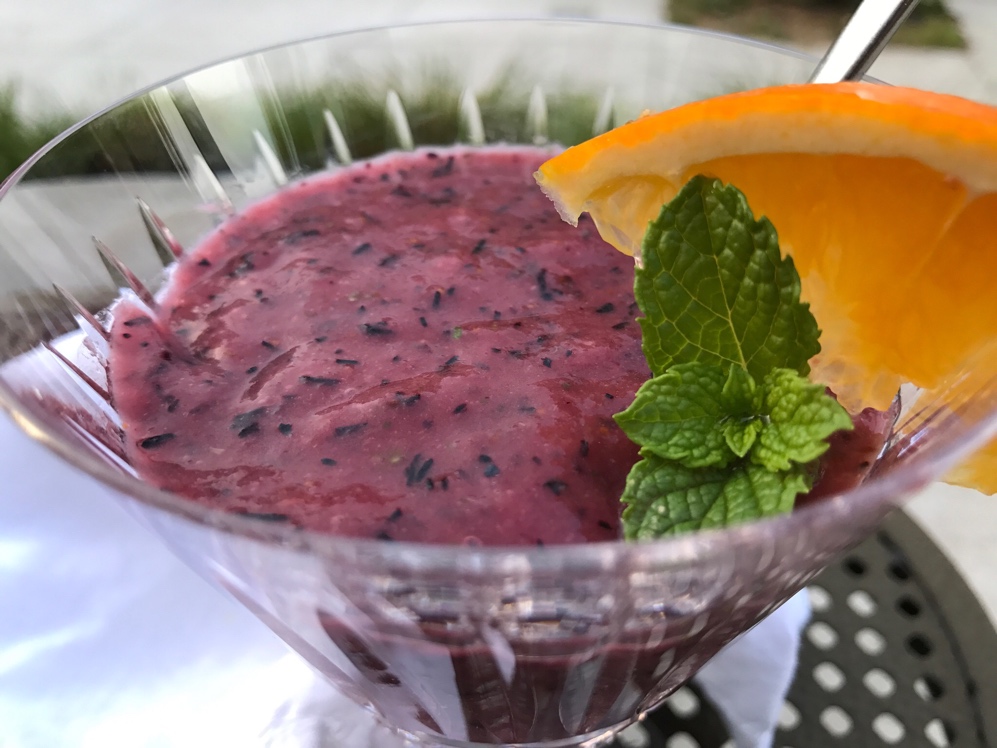 1 C. Tomato, quartered
1 C. Cucumber, peeled,
2 C. Blueberries
1 jalapeño, seeds removed
1 T. Onion, chopped
¼ C. Orange Juice
1 t. Balsamic Vinegar
1 T. Mint, chopped
1 T. Basil, chopped
Salt and Pepper, to taste
Using a paring knife, cut out the center of each tomato quarter and spoon away the seeds leaving only the outer flesh. Combine the tomato through vinegar in a blender and purée the mixture until smooth.  Add the mint and basil and pulse the mixture.  Taste the soup and season with salt and pepper. Serve cold.
Spicy Blueberry Chutney
Serves 6.
The sweet taste of blueberries can stand up to the heat, leaving you cool and refreshed on a hot summer day. Blueberries complement a variety of spices like cinnamon, pepper, cardamom and nutmeg.  As the spice factor rises, your body's natural cooling system activates, soothing you from the heat.
Blueberry chutney is an easy way to spice up your night. In minutes, the blueberries cook into a smooth sauce that complements savory dishes like pork, poultry, seafood, and cheese.  The sautéed onion, ginger and jalapeño pepper, give the sauce complex flavor, and the spices ratchet up the heat to provide the cooling benefits that make this the perfect summer condiment.
The color of the chutney from the blueberries is radiant, inviting you to taste it.  And once you taste it, you'll want to drizzle it on everything from pancakes to chicken kabobs. The flavor is bold and best to accompany simple dishes like seared pork tenderloin or warm naan with crumbled cheese.
The following blueberry chutney recipe provides a simple sauce that's big on flavor and requires little time to prepare. The blueberries pack a punch, and their smooth luscious texture provides a new way to incorporate these antioxidant rich vitamin sources to your diet bite by
delicious bite.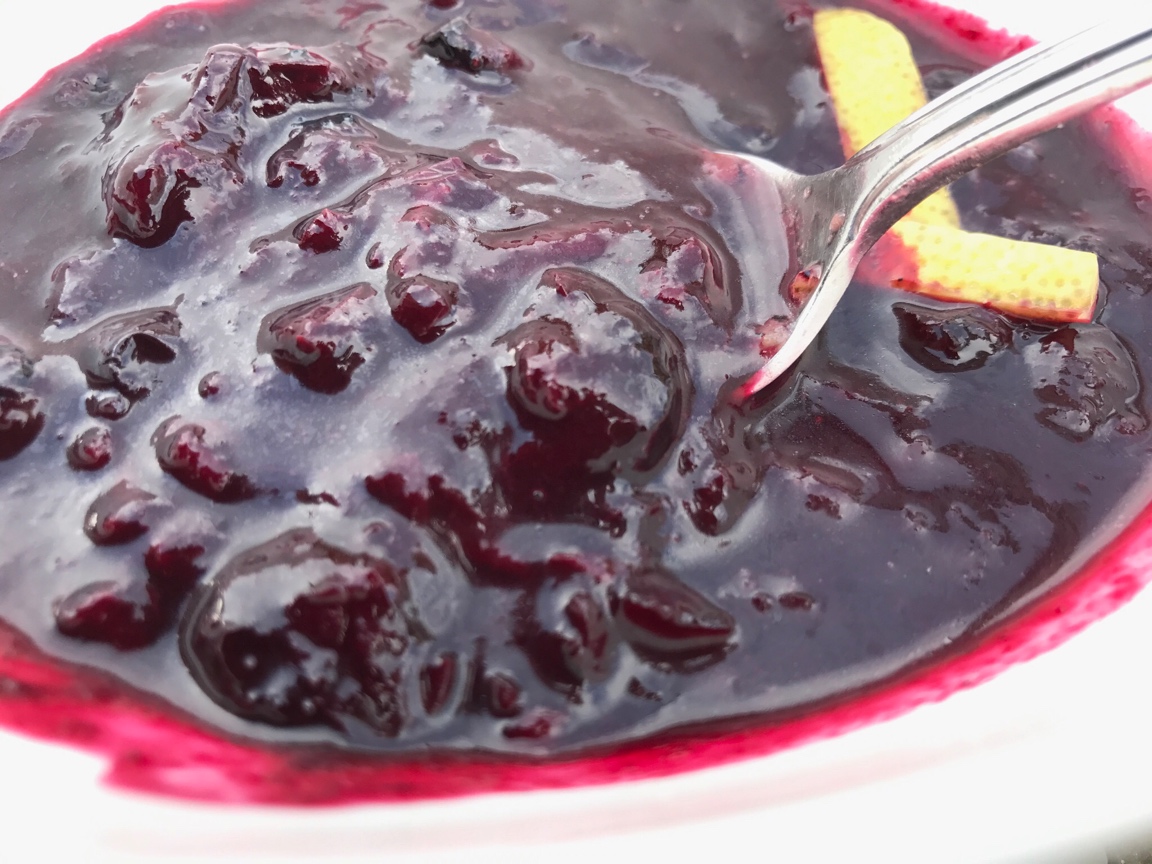 1 T. Olive Oil
¼ C. Onion, finely chopped
1 Serrano Pepper, seeds removed
1 T. Fresh Ginger, grated
2 C. Blueberries
½ C. Water
2 T. Honey
¼ t. Ground Cinnamon
2 t. Lemon Juice
Salt
Heat oil in a medium saucepan over medium-low heat. Add onion, pepper, and ginger and sauté until onion is translucent. Add a dash of salt to prevent browning while cooking. Add blueberries and water and bring to simmer. Add honey, cinnamon, lemon juice and salt and reduce heat. Let cook approximately 10-15 minutes until mixture is thickened and smooth. Taste and adjust salt, as needed. Serve warm or cold.