2. Lemon and Coconut Blueberry Cookies
By Megan Faletra, Integrative Registered Dietitian and Founder of The Well Essentials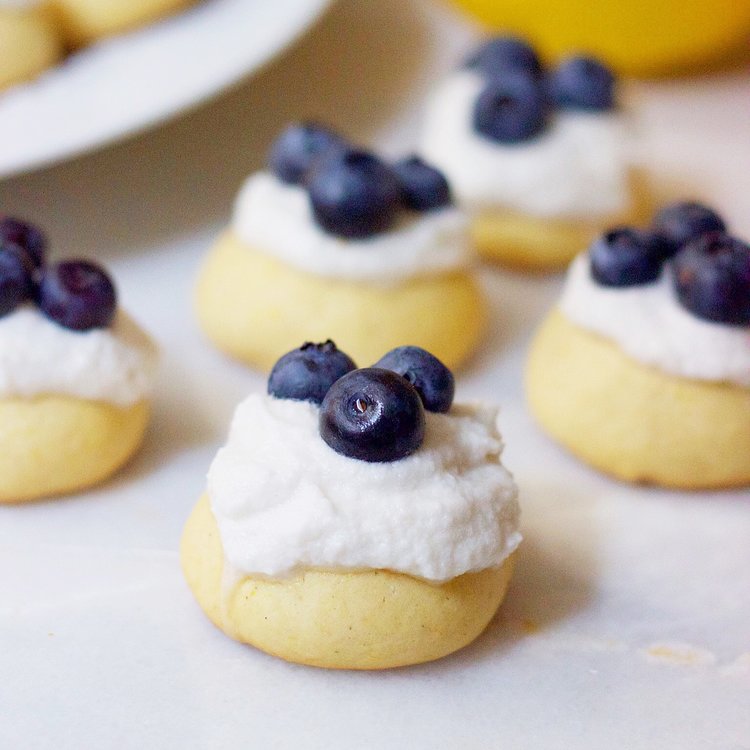 Cookie Ingredients
1 1/2 cups gluten free flour (I used Bob's Red Mills)
1/4 teaspoon xanthan gum (if your flour doesn't have it in it already)
6 tablespoons coconut oil
1 tablespoons of honey
1/2 cup of coconut sugar
1 egg
1/4 teaspoon Himalayan salt
1/2 teaspoon baking powder
1 teaspoon vanilla extract
1/2 teaspoon lemon flavor
Zest of 1 whole lemon
Frosting Ingredients
I can organic full-fat coconut milk (I like the one from Thai Kitchens)
1/2 teaspoon lemon flavor
1/2 teaspoon vanilla flavor
2 teaspoons honey OR 4 teaspoons powdered sugar (depending on if you are avoiding refined sugar or not)
Pint of blueberries for topping.
Cookie Directions
Preheat oven to 350 F
Spray a cookie sheet with coconut oil spray, or line with parchment paper (these cookies will stick so make sure to grease sheet or use parchment paper)
In a bowl, mix coconut oil, honey, sugar, and egg until fully combined.
Next, add vanilla extract, lemon zest, and lemon flavor to bowl, and mix.
In a separate bowl, combine gluten free flour, xanthan gum, salt, and baking powder.
Add the dry mixture the wet mixture, and mix until a dough forms.
Wrap dough in parchment paper, and place in the refrigerator for 2 hours (you can also refrigerate overnight).
Remove dough from refrigerator, and taking a tablespoon, scoop out tablespoons of dough and roll into small, golf ball sized balls, and place on greased/parchment paper lined cookie sheet.
Repeat this process until baking sheet is filled, and place in over for 12-15 minutes.
Remove from over and allow to cool before frosting.
Directions for Frosting
Place can of coconut milk in the refrigerator and allow to sit overnight.
Scoop thick coconut cream from the top of can, and discard liquid.
Using a hand mixer/or sand mixer, whip coconut cream until it is light and fluffy.
Add vanilla and lemon flavoring.
Add honey to taste, you can also add 4 teaspoons of powdered sugar if desired, which will make the frosting (and taste of the cookies in general) much sweeter.
Once frosting is whipped, spread onto cooled cookies and top with blueberries.