3. Blueberry Oatmeal Muffins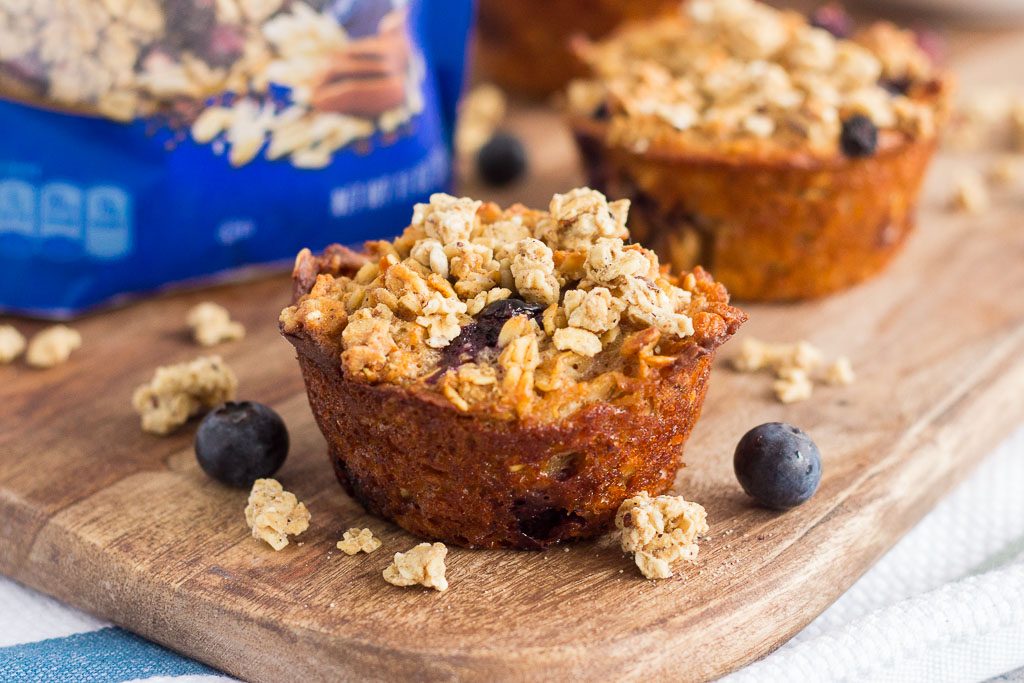 Ingredients
3/4 cup enriched all-purpose flour
3/4 cup white whole wheat flour
1 1/2 cups quick-cooking oats
1/2 cup wheat germ
3/4 cup coconut palm sugar or light brown sugar
2 teaspoons baking soda
1/2 teaspoon baking powder
1 1/2 teaspoons cinnamon
1/2 teaspoon kosher salt
1 large egg
1 cup reduced-fat vanilla Greek yogurt
1/2 cup low-fat milk
1/3 cup safflower or other neutral-flavored oil
1 1/2 cups blueberries, fresh or frozen
Directions:
Preheat oven to 375 F.
Line two 12-cup muffin tins with 16 paper muffin liners.
Mix the flours, oats, wheat germ, sugar, baking soda, baking powder, cinnamon, and salt together in a large mixing bowl.
Mix the egg, yogurt, milk, and oil in a second bowl.
Add the wet ingredients to the dry ingredients and stir until just combined (do not over-mix). Gently stir the blueberries into the batter.
Scoop the batter into the muffin cups and fill them about 3/4 of the way full (you should have 16 muffins).
Bake 18 to 20 minutes until muffins are golden brown and a toothpick inserted into the center comes out clean.
Cool in the pan for 5 to 10 minutes and then turn the muffins onto a rack and cool completely.
Muffins can be served right away or frozen for later use.
Credit: http://www.carolinekaufman.com
4. Vegan Blueberry Pancakes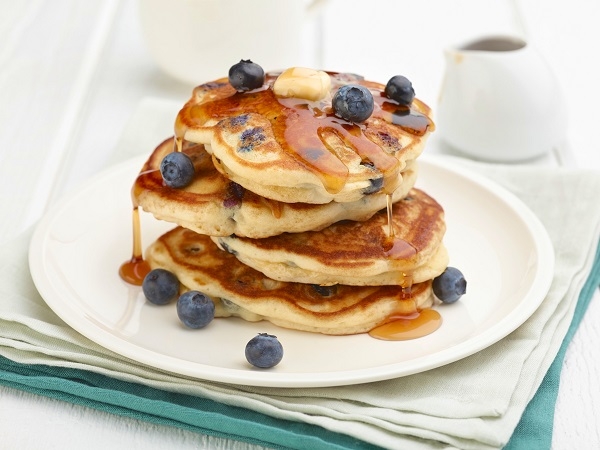 Ingredients
1 1/3 cups plain, unsweetened soymilk
1 tablespoon plus 1 teaspoon fresh lemon juice
2 tablespoons ground flaxseed
1/4 cup hot water (about 180 degrees F)
1 1/3 cups whole-wheat pastry flour
2/3 cup cornmeal
2 tablespoons granulated sugar
1 tablespoon baking powder
1/2 teaspoon salt
2 cups blueberries, plus 2 cups for serving (optional)
1 cup pecans, toasted and coarsely chopped
Directions:
In a large mixing bowl, whisk together soy milk and lemon juice. Let mixture sit for 5 to 10 minutes to thicken into a buttermilk-like consistency.
In a small bowl, stir ground flaxseed and hot water together. Allow to sit for 5 to 10 minutes until it thickens.
Add flaxseed mixture and canola oil to the bowl with the "buttermilk" and whisk to combine.
In a medium mixing bowl, whisk together the flour, cornmeal, granulated sugar, baking powder and salt. Stir the dry ingredients into the wet ones until just combined, and then fold in the blueberries. If the batter is too thick to pour, thin it with a little more soymilk.
Heat a medium cast-iron skillet or nonstick griddle over medium heat. When the pan is hot, brush it with a thin layer of oil. Spoon a scant 1/4 cup of batter onto the griddle for each cake. This should spread to form a 4-inch pancake. Cook for 2 minutes, until batter begins to bubble and the bottoms are golden brown. Flip the pancakes and cook until opposite sides are golden brown. Repeat with the remaining batter. Top pancakes with a sprinkle of pecans, additional blueberries and a dusting of confectioner's sugar, if desired.
Credit: https://www.fitpregnancy.com