3. Lemon Blueberry Cheesecake Cake
By Cinnamon-Spice and Everything Nice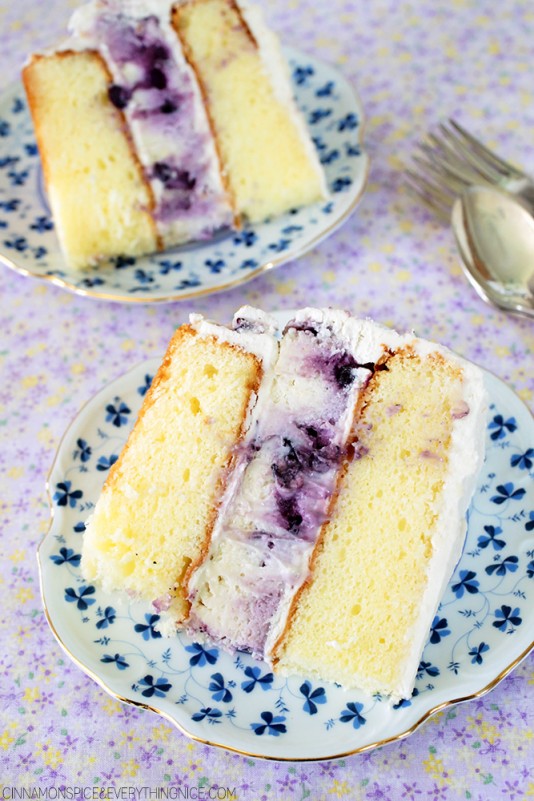 Ingredients
16 ounces bar cream cheese, at room temperature
½ cup sour cream
⅔ cup sugar
3 eggs
the zest of 2 lemons
2 cups fresh or frozen blueberries
2 + ¼ cups all-purpose flour
1 + ½ cups sugar
½ cup butter or stick margarine, softened
1 + ¼ cups milk
3 + ½ teaspoons baking powder
1 teaspoon salt
1 teaspoon vanilla extract
3 eggs
8 tablespoons butter, at room temperature
4 ounces cream cheese, at room-temperature
zest of 1 lemon
3 – 4 cups sifted confectioners' sugar
2 – 3 tablespoons heavy cream or half & half, plus more if needed
fresh blueberries, to decorate the top
fresh whipped cream, for serving
Instructions
Preheat the oven to 325 degrees F. Line a 9-inch spring-form pan with parchment paper and grease the sides with butter. Wrap the bottom in aluminum foil and set the pan inside a larger baking pan.
Beat the cream cheese until soft and fluffy on medium speed about 2 minutes.
On low speed beat in the sour cream and sugar until smooth and well combined.
Beat in the eggs, one at a time on medium speed. Beat in the lemon zest.
Stir in the blueberries. Pour into the pan. Fill the outer pan with hot water so it reaches halfway up the cheesecake pan.
Bake until set in the center and firm to the touch 50 – 55 minutes. Cool on a wire rack.
Cover and chill overnight.
Preheat oven to 350 F. Butter and flour 2 (9-inch) round pans.
In a large mixing bowl beat all the ingredients together using an electric mixer on low speed 30 seconds. Beat on high speed 3 minutes, scraping bowl occasionally.
Divide equally between the two pans. Bake 25 to 30 minutes until a toothpick inserted in center comes out clean.
Cool on wire racks 20 minutes then turn one of them out onto a cake platter and the other onto a piece of parchment. Cool completely.
In a medium bowl beat the butter and cream cheese together until smooth and fluffy about 3 minutes on medium speed.
Add a cup of confectioners' sugar at a time and beat 1 minute after each addition alternating with a small splash of the heavy cream until you get a thick spreading consistency.
Beat an additional 5 minutes on low speed until light and super fluffy.
Spread a thin layer of frosting over the top of the cake you set on the cake platter.
Remove the ring from the cheesecake and run a butter knife around the edges if needed then use a thin spatula to help lift one side so you can get your hand under it.
Place it on the cake. Spread a thin layer of frosting on the cheesecake and top with the remaining cake.
Frost the cake (top with fresh blueberries, if you like). Chill at least 2 hours before serving.
Serve cold with a dollop of whipped cream if desired. Keep the leftovers refrigerated up to 4 days.
4. White Chocolate Blueberry Oatmeal Cookies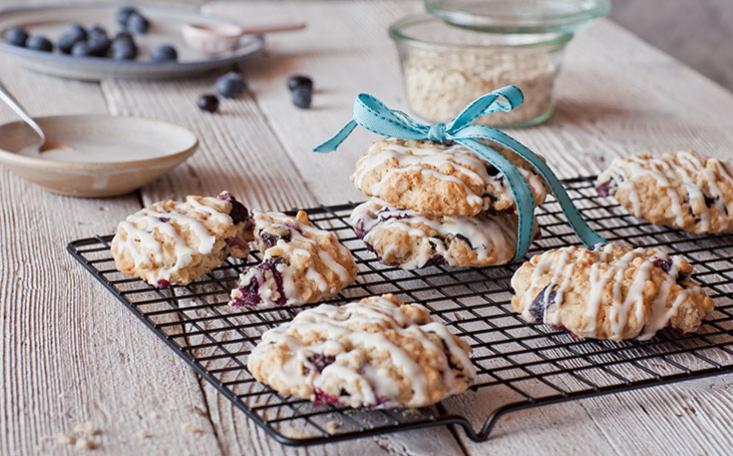 Ingredients
1 1/4 cups all-purpose flour
3/4 cup old fashioned oats
1/2 teaspoon cinnamon
1/2 teaspoon baking powder
1/8 teaspoon baking soda
1/8 teaspoon salt
1/2 cup (1 stick) unsalted butter, softened
2/3 cup sugar
1/4 cup brown sugar
1 teaspoon vanilla extract
1 large egg
1/2 cup white chocolate chips
1/2 cup blueberries
Instructions
Preheat oven to 350 degrees F. Line a baking sheet with parchment paper or a silicone baking mat; set aside.
In a medium bowl, combine flour, oats, cinnamon, baking powder, baking soda and salt.
In the bowl of an electric mixer fitted with the paddle attachment, beat butter and sugars on medium-high until light and fluffy, about 2-3 minutes. Beat in vanilla and egg until well combined. Gradually add flour mixture to sugar mixture at low speed, beating just until incorporated.
Gently fold in chocolate chips and blueberries.
Drop tablespoons of batter onto prepared baking sheet and press down lightly to flatten.
Place into oven and bake until edges are golden brown but center is still moist, about 7-8 minutes.
Remove from oven and cool on a wire rack.