Wild Blueberry Sweet Potato Bread
By Sarah Schlichter, MPH,RDN,LDN at Bucket List Tummy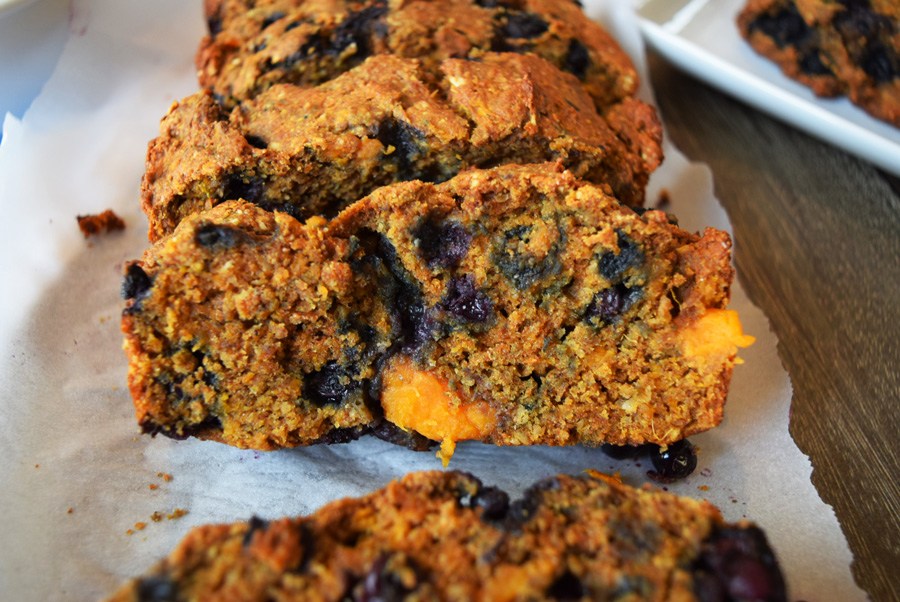 This is a nutritious recipe which combines the flavors of fresh, fall sweet potatoes with wild blueberries to create a slightly tart yet sweet, moist, fluffy bread.
Serves: 6-8
Ingredients
1 cup mashed sweet potatoes (about 2 medium)
¼ cup coconut oil, melted
¼ cup plain greek yogurt (I used fat-free)
1 tbsp maple syrup
1 cup whole wheat flour
½ cup oat flour (oats grinded into flour)
⅓ cup coconut sugar
1 tsp cinnamon
¼ tsp salt
½ tsp baking powder
½ tsp baking soda
1 cup frozen wild blueberries (+some for topping)
Instructions
Preheat oven to 350 and grease 9×5 inch loaf pan.
To a small bowl, add the egg, mashed sweet potatoes, coconut oil, greek yogurt and maple syrup to a bowl. Whisk until combined.
To another bowl, add flour, oat flour, sugar, cinnamon, salt, baking powder and baking soda. Mix the dry into the wet ingredients, folding the blueberries in last. The batter should be thick.
Bake for 45-50 minutes, or until toothpick comes out clean.
Let cool for 10-15 minutes before slicing.