9. Breezy Lemon Blueberry Parfait
By Lifeway Foods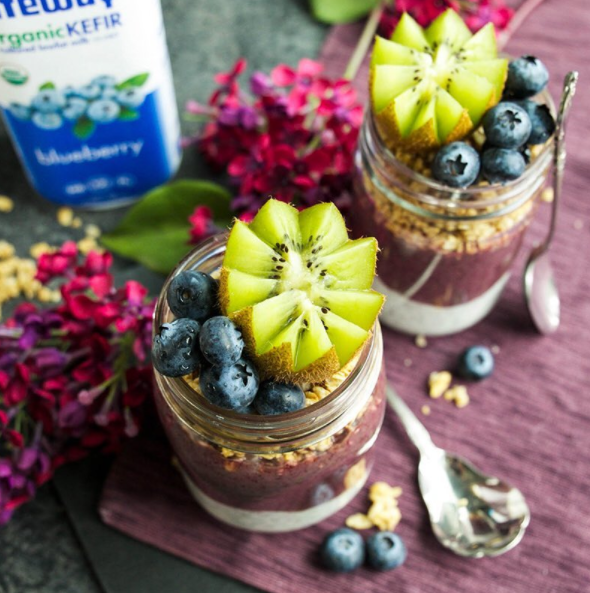 Ingredients
Lemon Chia Pudding:
2 tablespoons chia seeds
Blueberry Smoothie:
2 cups blueberries
1 avocado
Granola, blueberries, kiwi to top
Instructions
Mix lemon meringue kefir with chia seeds in a mason jar or covered bowl and let sit overnight in the fridge.
Add kefir, blueberries, and avocado to the pitcher of a high-powered blender. Blend on high until smooth.
Pour kefir chia pudding into two glasses. Layer with blueberry smoothie then top with granola and fresh fruit.
10. Antioxidant-rich Smoothie
By Virta Health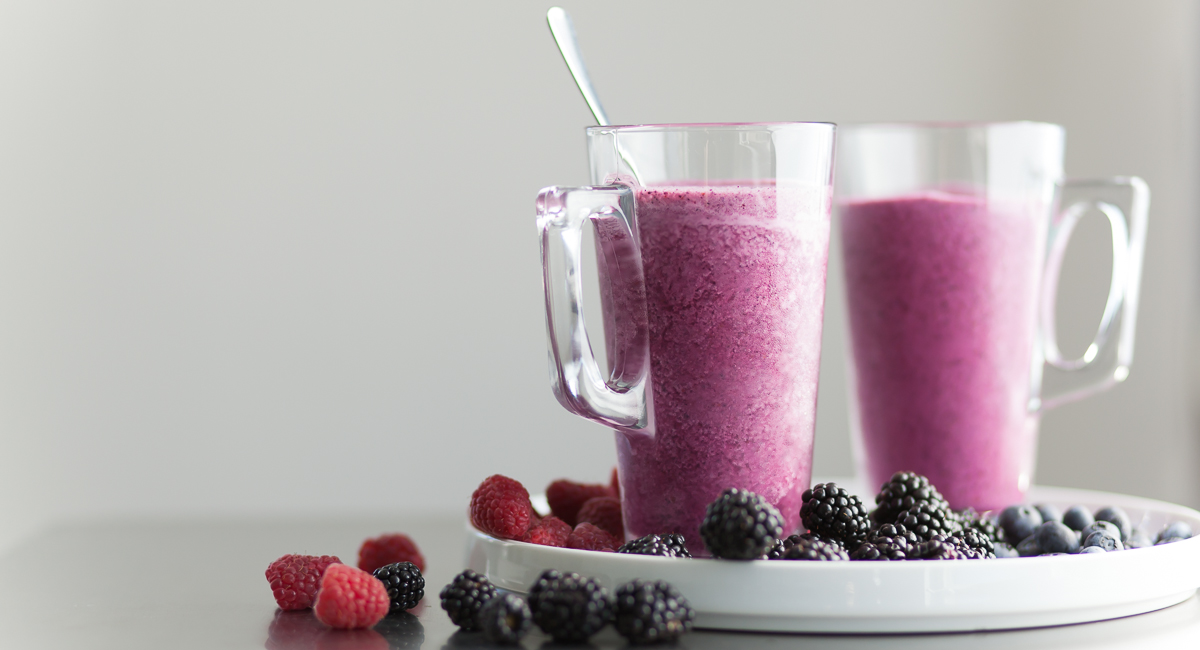 Ingredients:
3 oz fresh or frozen unsweetened blueberries
¼ cup whipping (or heavy) cream
1 Tbsp olive oil
2 Tbsp unflavored whey protein powder (delactosed)
2-3 oz ice
Instructions
Place all ingredients in blender or food processor.
Blend the ingredients at high speed until smooth, about 30-60 seconds.
You've probably heard that smoothies are a great way to lose weight – but watch out! Fruit-based smoothies may seem like a healthy choice but most are loaded with sugar. For example, a 12 ounce Tropical Greens smoothie from Jamba Juice contains 29 grams of sugar in just a single serving. That's nearly SIX teaspoons of sugar, which can overwhelm the body's ability to maintain normal blood sugar. Compare these 6 teaspoons to the one teaspoon normally in the bloodstream before eating. Sugar, especially when consumed in large quantities, blocks your body's ability to burn fat. And if you are carbohydrate-intolerant—diabetic, pre-diabetic, or tend to gain weight around the midsection—this is an even bigger problem. If you're looking to lose weight, the key is cutting your sugar intake – all forms, including fruits and added sugars. You can still enjoy a delicious fruit smoothie. Just be sure it's made with low sugar fruits like berries – blackberries, strawberries, blueberries, and raspberries are great choices! And mix those berries with full-fat plain yogurt, Greek yogurt, or cream and whey protein (optional) to help keep your blood sugar low, feel satisfied, and optimize your body's ability to lose weight.